Grand Rapids Porcelain Veneers
Serving Cascade, Grandville, and Grand Rapids
Dental Veneers in Cascade, Grand Rapids and Grandville, MI
We at Grand Rapids Dental Partners feel fortunate to have the finest ceramist (porcelain technician) in West Michigan working for us. Sandy used to run a large laboratory working with more than 50 offices.  She now limits her services to a few select offices, of which we are one. Her artistic eye and incredible talent make us — and our patients — look great.  Sandy performs custom chair-side shade matching on all our cosmetic cases, achieving the most attractive and natural smile possible.
Dental Veneers
A porcelain veneer is a beautiful, versatile option for correcting the shape, length, color, or texture of your teeth.  Veneers are ultra-thin porcelain wafers that are bonded to your enamel to give your teeth a whole new appearance. Though they are thin, the bond with your tooth makes them extremely durable. Additionally, the material is very resistant to discoloring.
Porcelain veneers can be used to reshape teeth that are too small or too large, uneven, worn, or chipped. They can also be used to correct the look of slightly crooked teeth when orthodontics is not an option.
Dental Veneer Services Case Studies
Our dental veneer specialist, Sandy, allows us to be more conservative than most porcelain technicians. In Case Study 1, many cosmetic ceramists would advocate for 6-8 veneers. In this case, we did only four, which was half the cost to the patient but achieved almost 90 percent of the results. This patient is totally happy with the results.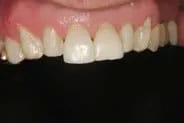 Four veneers were prepared and shade-matched by our ceramist.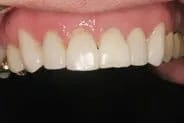 Veneers dramatically improved the look of patient's front teeth.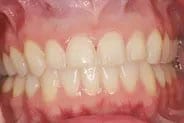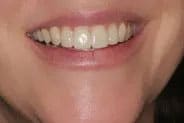 Beautiful smile after veneers, after lengthening.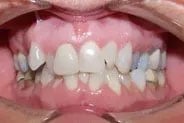 Teeth without any veneer treatment.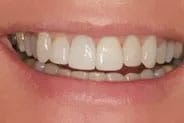 After veneers, our patient has a whole new smile!
If you're ready to finally achieve your dream smile, we welcome you to get in touch with our cosmetic dentist at Grand Rapids Dental Partners. By using dental veneers, we are able to create a beautiful design that best fits your overall mouth structure. Each porcelain veneer can be used to reshape and align existing teeth.
To help you make the best decision for your individual situation, please contact us for a consultation or request an appointment online. Our cosmetic dentist is proud to see patients across the Grand Rapids, Cascade, and Grandville, MI area.
We can't wait to meet you! 
Patients come first – we provide excellent Dental services that incorporate innovation and technology.
Experienced Doctors
Our doctors have been practicing dentistry for a over 20 years combined.
Scheduling Convenience
With two locations to serve you at in Cascade and Grand Rapids, our dental team will schedule you for your dental appointment when it fits into your schedule. 
Part of Your Community
We are a small business, that is family owned and operated.  Grand Rapids loves serving the Grand Rapids, Cascade and Grandville communities.  You will often find our team volunteering after office hours.
Frequently Asked Questions
Are you accepting new patients?
Yes, we are accepting new patients in Grand Rapids.  If you're in need of Preventative Dentistry, Family Dentistry, Sleep Apnea Treatments, and other dental services – Grand Rapids Dental Partners is here to help!
What insurance do you accept?
We're in-network with Delta Dental of Michigan and can bill most other insurances. Our staff is happy to answer any of your insurance questions and we offer a complementary benefits check, or pre-authorization as needed.
Why should I choose Grand Rapids Dental Partners?
Our philosophy is to never stop learning our dentists and the team continually adopts successful techniques and treatments as they evolve, providing our patients with the best possible care.
The team of dentists and hygienists at Grand Rapids Dental Partners are proud to be your source of quality dental care. With offices located in Grand Rapids, and Grandville, MI, we can see and treat patients with a variety of procedures. To further improve your oral health, we welcome you to contact our dentist office today to learn more about our treatment options or to schedule an appointment!
What should I do in a dental emergency?
If you find yourself in a dental emergency, please call or email our office as soon as possible.  We will do everything we can to help you in your time of need.
What should I do if I lose a dental crown?
Depending on what type of dental crown you have, things happen, and they can fall out on a rare occasion.  If your crown does fall out, please try to keep it, and bring it with you to your appointment.
What is Sleep Dentistry?
Sleep apnea is a disorder that prevents the body from getting enough oxygen during sleep. People with sleep apnea stop breathing for brief periods of time while sleeping. The most common form of sleep apnea is called Obstructive Sleep Apnea (OSA). The name comes from throat blockage that is caused by the tongue or palate.
Dr. Josh Smith is a member of the American Academy of Dental Sleep Medicine (AADSM) and, in collaboration with the local sleep centers at Spectrum Health and Metro Health, he remains up to date on the latest treatments for sleep apnea.
Does Grand Rapids Dental Partners offer periodontal disease treatments?
Yes, we offer Periodontal (Gum Disease) Treatment options at your dental cleanings.  Our goal is to treat periodontal disease non-surgically and our routine hygiene appointments can help with intervention.
Do you offer Botox in your office?
If you are interested in boosting your appearance to look younger without undergoing cosmetic surgery, you may want to consider getting Botox injections. Botox injections are non-invasive, outpatient treatments used to alleviate issues related to aging. The doctors and assistants here at Grand Rapids Dental Partners offer safe and convenient Botox injections for patients throughout the Cascade, Grand Rapids, and Grandville, MI areas.
What should I do if mine, or my child's tooth, is knocked out?
Should a tooth get knocked out please contact our office as soon as possible.  We know it can be scary, but try not to panic, we will do everything we can to help you with your knocked out tooth and discuss options and recommendations based on your circumstances.
What should I do if I crack a tooth?
Grand Rapids Dental Partners understand that a cracked tooth is painful!  Please contact us to give us details on your cracked tooth right away!
Same Day
Appointments Available
Our Grandville Dentists are here for you, when you need them!