Meet Our Team
Grand Rapids Dental Partners has been proudly serving Grand Rapids and Grandville, MI since 2006. The dentists, hygienists, and team at Grand Rapids Dental Partners are proud to be your source of quality dental care. With offices located in Grand Rapids and Grandville, MI, we are able to see and treat patients with a variety of procedures. To further improve your dental health, we welcome you to contact our office today to learn more about our treatment options or to schedule an appointment!
Dr. Joshua Smith
B.S., Physiology, Michigan State University | D.D.S., University of Michigan Dental School
Dr. Smith's personal philosophy is to never stop learning. He continually adopts successful techniques and treatments as they evolve, providing his patients with the best possible care. Dr. Smith is committed to the top continuing education dentistry has to offer. He brings this focus on education to his patients by helping them understand the best way to care for their teeth and why it's so important. He often uses examples, demonstrates techniques, or uses videos or brochures to help explain what needs to be done and what to expect. It is because of these efforts his patients trust him. That trust often leads to a better dental care commitment.
Dr. Smith grew up in the Grand Rapids area and attended Jenison High School. After graduation, he went to Michigan State University (MSU) to study Physiology and was inspired by his family dentist to consider dentistry. He was then accepted into the University of Michigan Dental School in 2002. After he graduated in May of 2006, life went full speed ahead. He married his wife Mollie, whom he met at MSU, moved back to their hometown in Grand Rapids, and began his career at Grand Rapids Dental Partners.
He and Mollie have three boys. Carter was born in 2010, Beckett in 2012, and Eli in 2013. It's amazing how different all three are. Carter is their athlete who loves rock climbing, soccer, basketball, and anything Legos. Beckett is a true sweetheart who puts Dr. Smith to shame in front of a basketball hoop and is the biggest MSU basketball fan there is. Eli, their youngest, just recently started downhill skiing on his own and loves animals any size. As a family, they enjoy heading up north, usually to the Torch Lake area. Their family time is most often spent on a boat in the summer or on a ski hill in the winter. Life is an adventure and he's looking forward to the continued memories.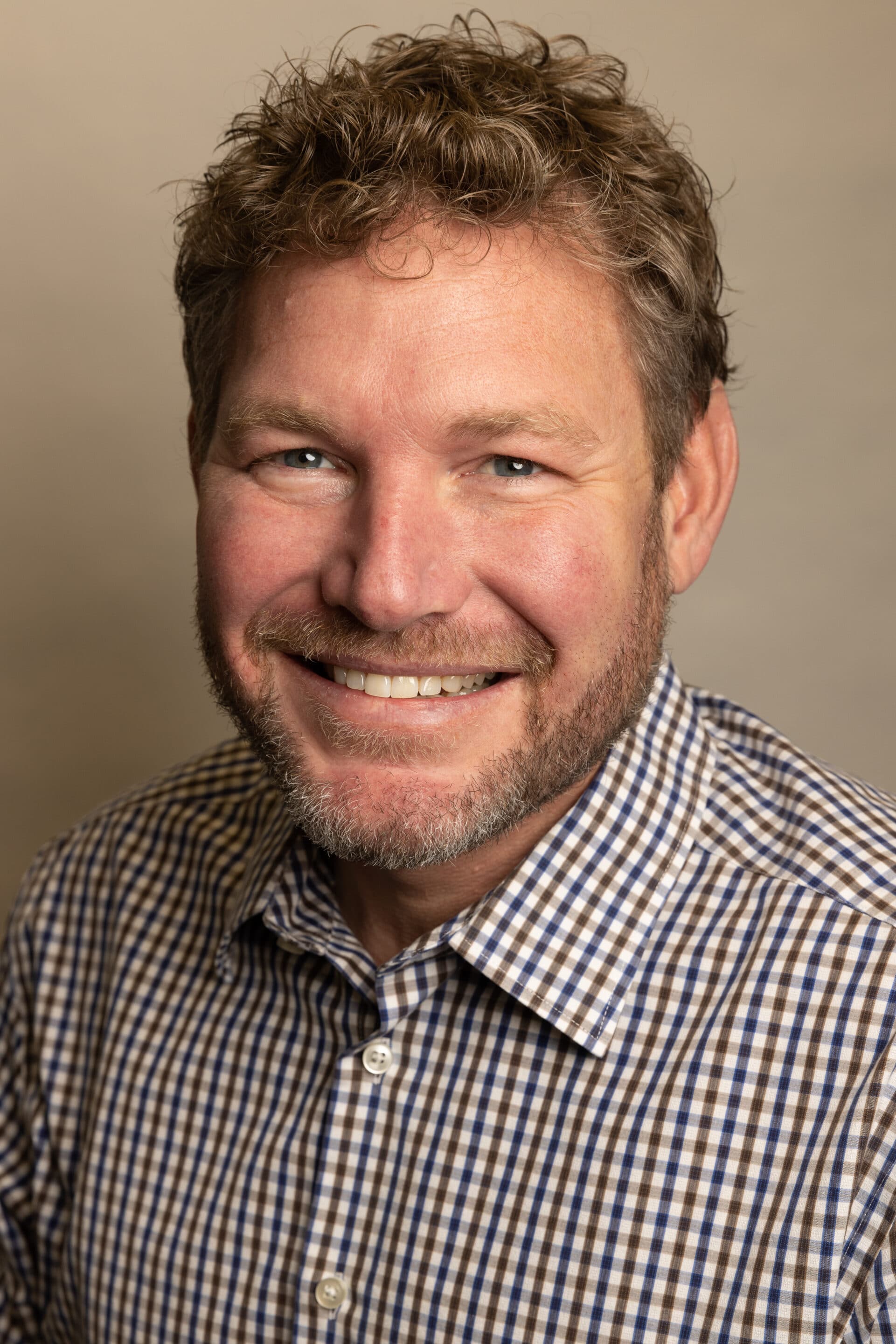 Dr. Cindy Neumann
B.S., Biomedical Science, Grand Valley State University | University of Illinois – Chicago College of Dentistry 
Dr. Cindy Neumann and her husband, Ted, met while attending Grand Valley State University and later married in 2017. They reside in Holland along with their English Bulldog, Otis. While in Chicago, she received her Doctor of Dental Medicine degree from the University of Illinois. Upon graduating, she practiced family dentistry while in Chicago and had the opportunity to work in public health.
Dr. Neumann looks forward to meeting the patients and families at Grand Rapids Dental Partners and providing them with personalized dentistry, using the cutting-edge technology available at the practice.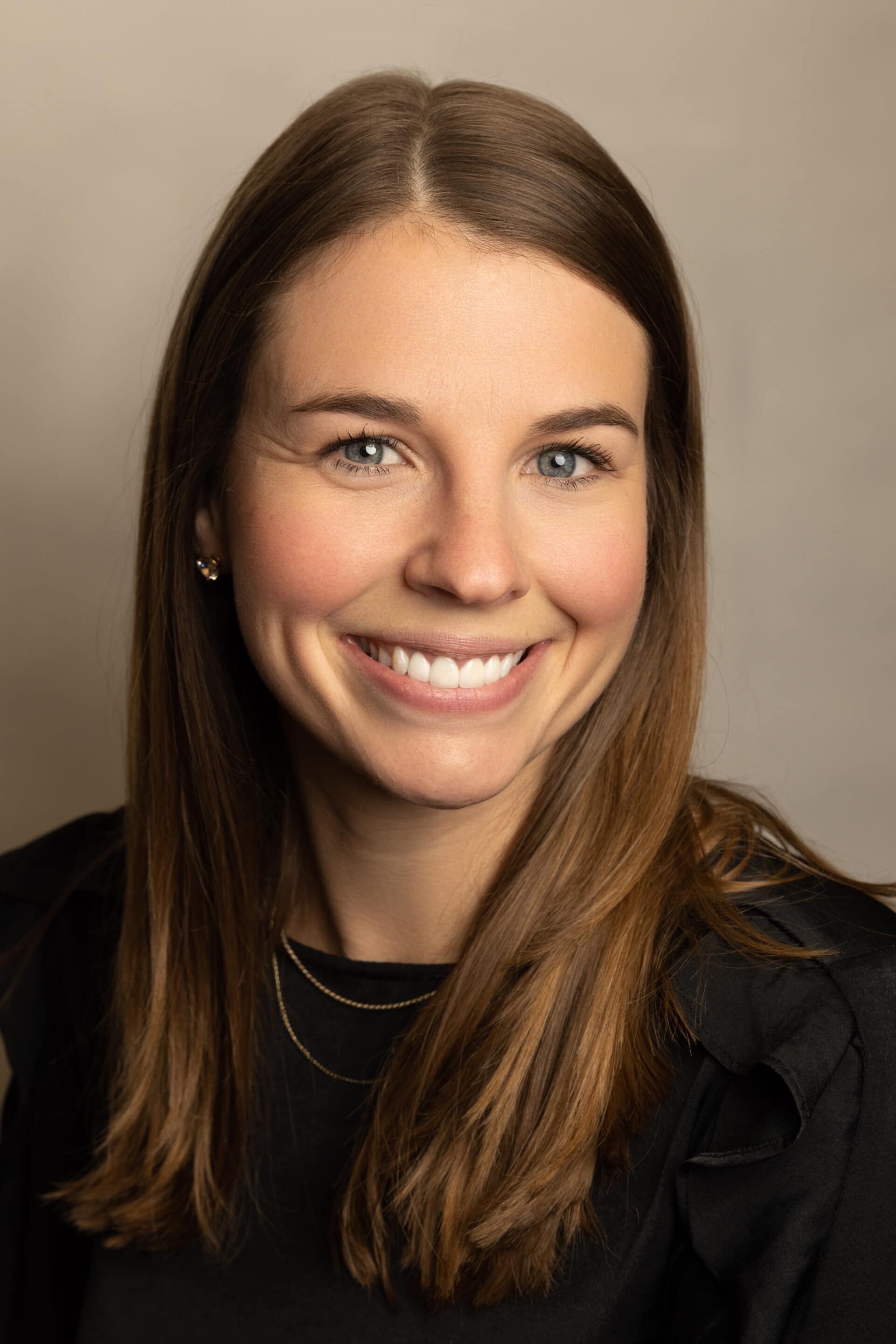 Pam, RDH
Pam has been with the team since 1986. She attended Grand Rapids Junior College. She loves anything creative or crafty and spending time traveling with family and friends. Pam is married to her husband, Lou, and has two daughters, Laura and Megan. She's also very excited about her one-year-old puppy, Walter. 
Her favorite thing about working at Grand Rapids Dental Partners is "the long-term relationship I have been blessed to have made. The patients are so special to me and helping them maintain their dental care has been so rewarding to me."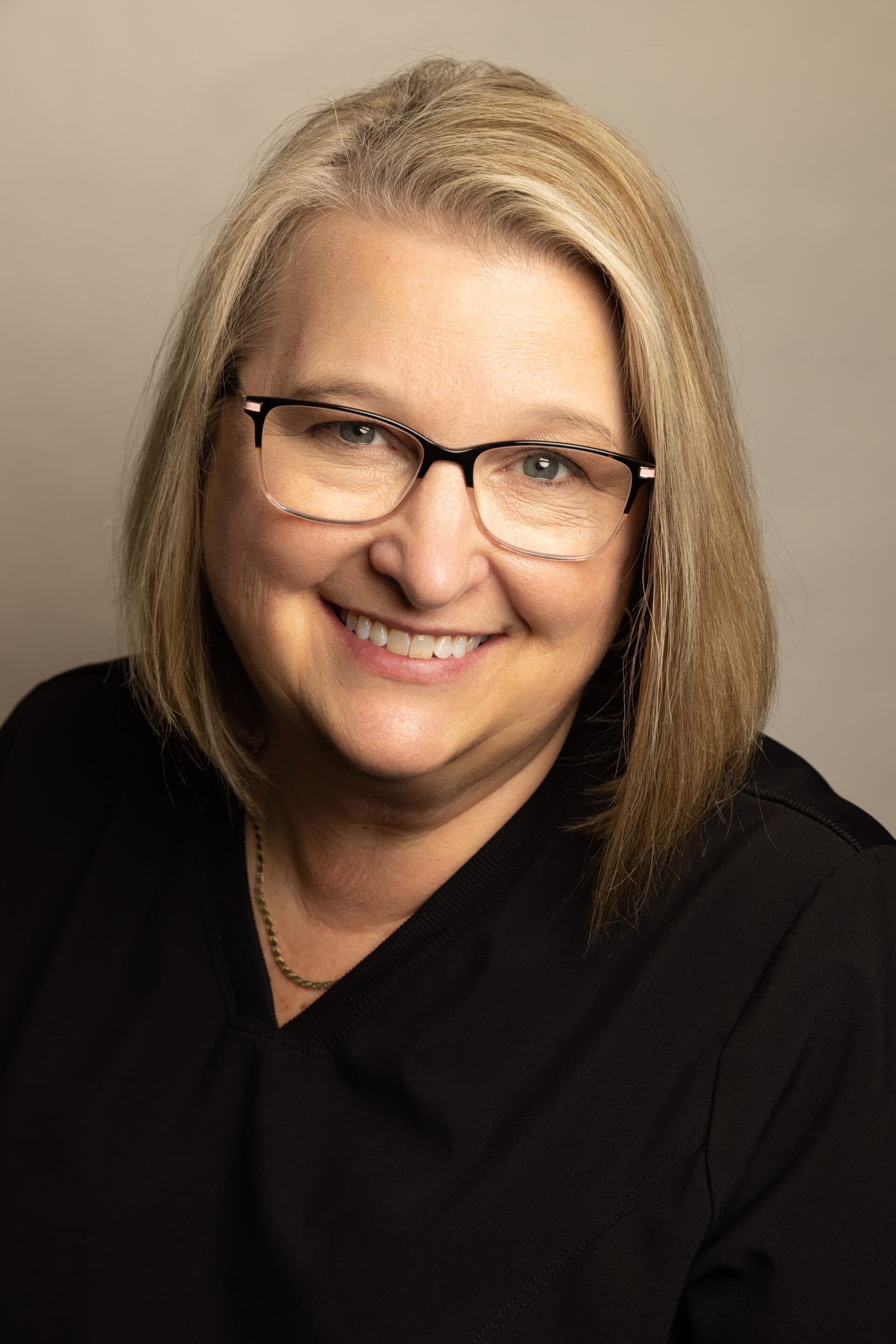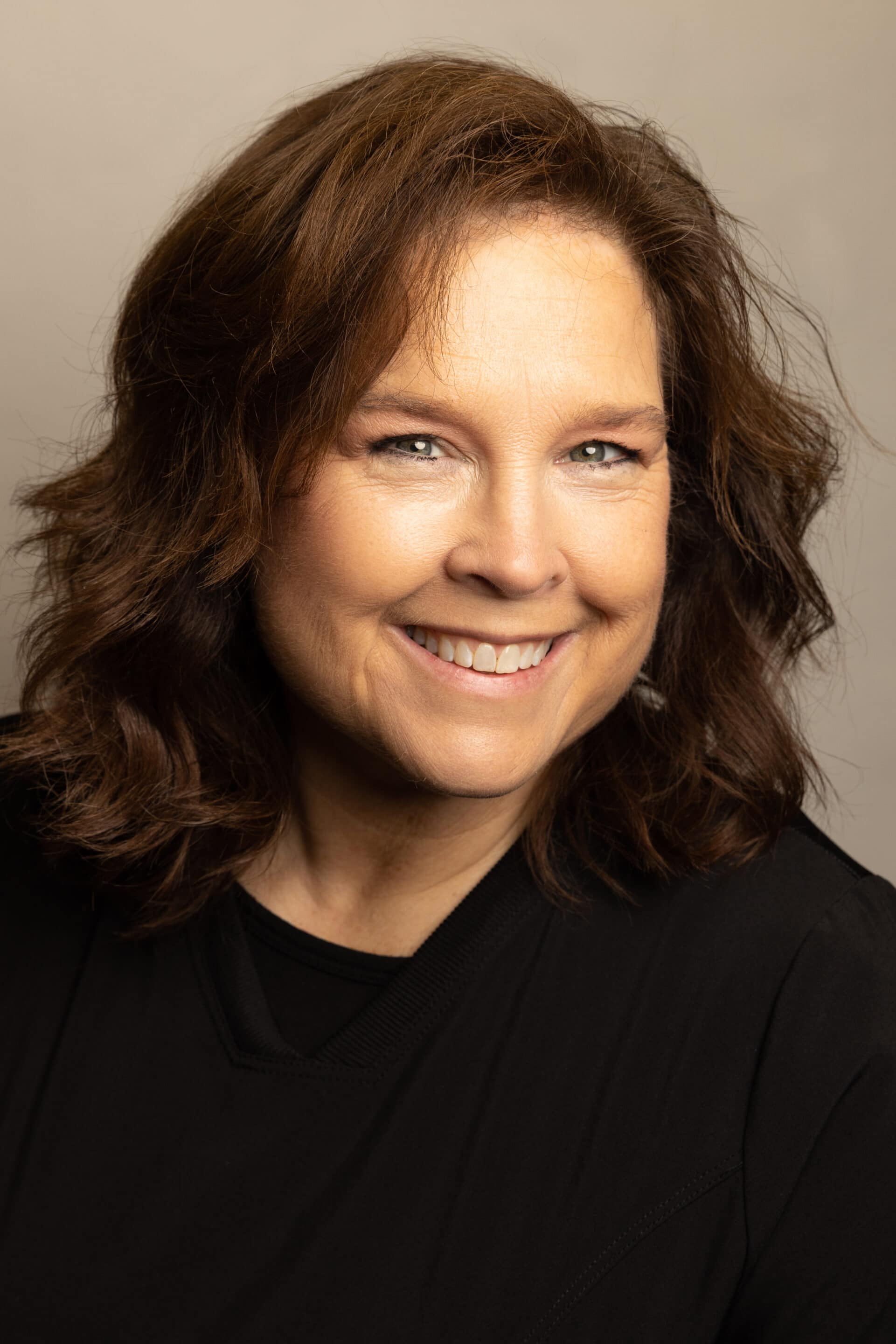 Ginger, RDH
Ginger has been a part of the team since 1991 after attending GRCC. She and her husband, Skip, have two children and a granddaughter, Charlotte. Outside of work, she enjoys baking and spending time with her family. Mainly, she loves to enjoy the outdoors by hiking, kayaking, gardening, and walking their dog. Her favorite thing about her job is that there is an opportunity to build long-term relationships with their patients and co-workers. She is also very proud of the care they provide to patients. 
Michelle, RDH
Michelle started at the beginning of 2014 after graduating from GRCC in 2013. Outside the workplace, she enjoys camping in the summer months and spending time with her friends and family year-round. She and her husband, Todd, have two daughters, Olivia and Evelyn. Her favorite part about Grand Rapids Dental Partners is the family-oriented team. She loves being able to create relationships with the patients, knowing that they're getting optimal care for their oral health.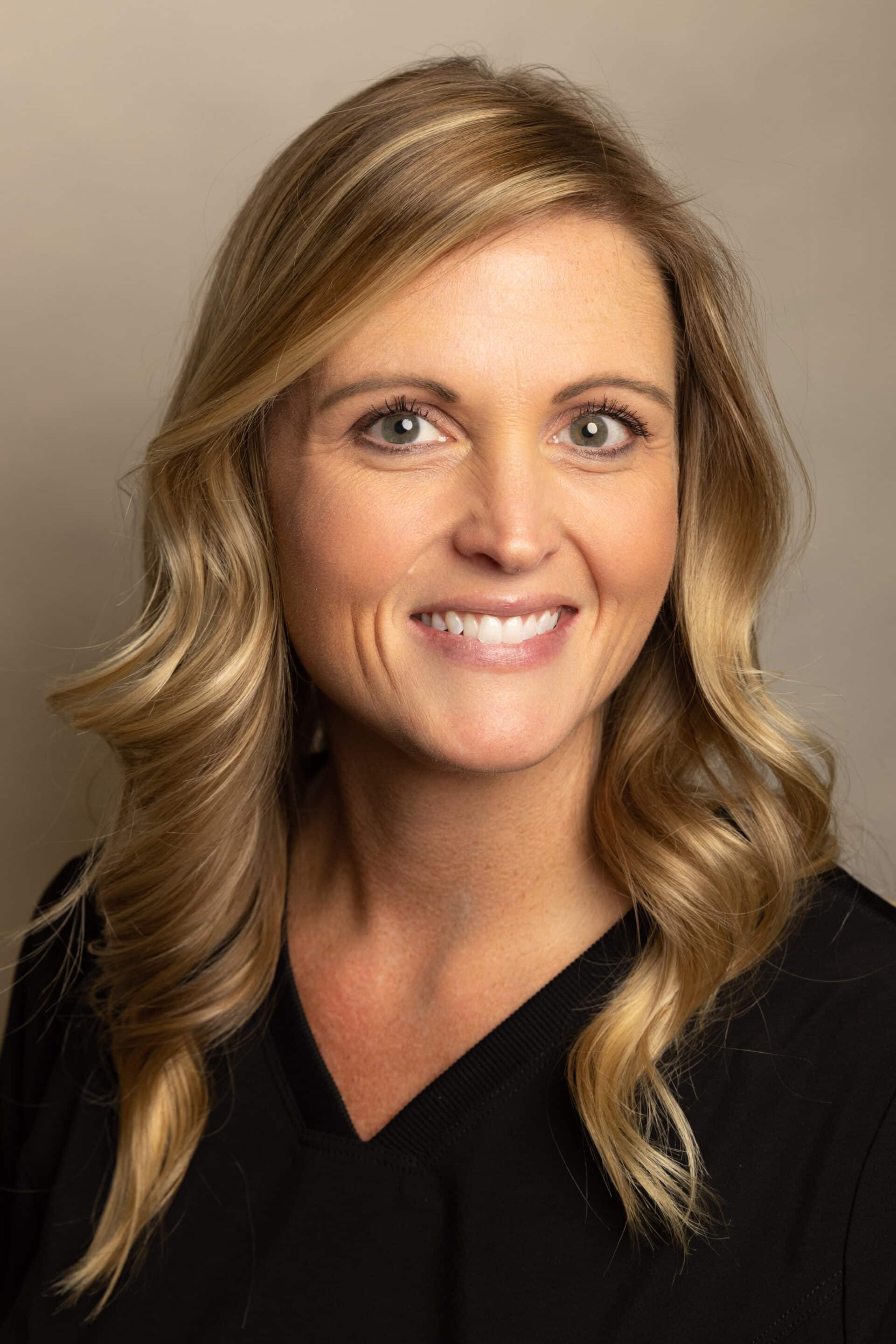 Amber, RDH
Amber started May of 2017 after studying at KVCC. When she's not enjoying the fun she has inside and outside of work, she loves reading, crafting, and going to concerts. Oakleigh and Roxie are pets who feel like family and fit right in when she's enjoying spending time with her family and friends. Her favorite part of work is the amazing patients. 
Kelsey, RDH
In 2018, Kelsey joined our team after attending GRCC. You'll find she spends her free time outside, boating, or walking her dog. She loves traveling and enjoying new types of cuisine. She's also recently married! Her favorite thing about her job is spending time with her co-workers at team outings.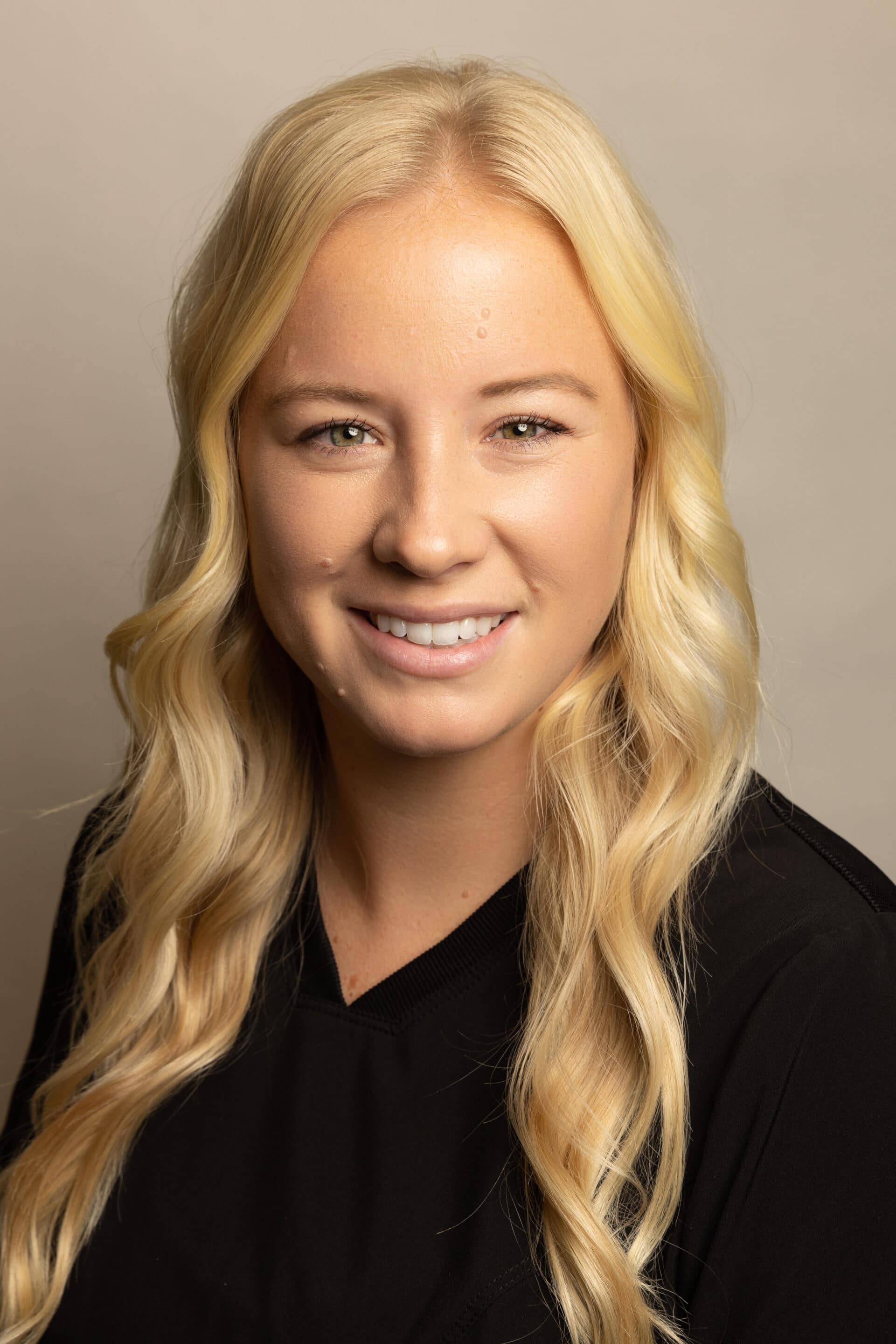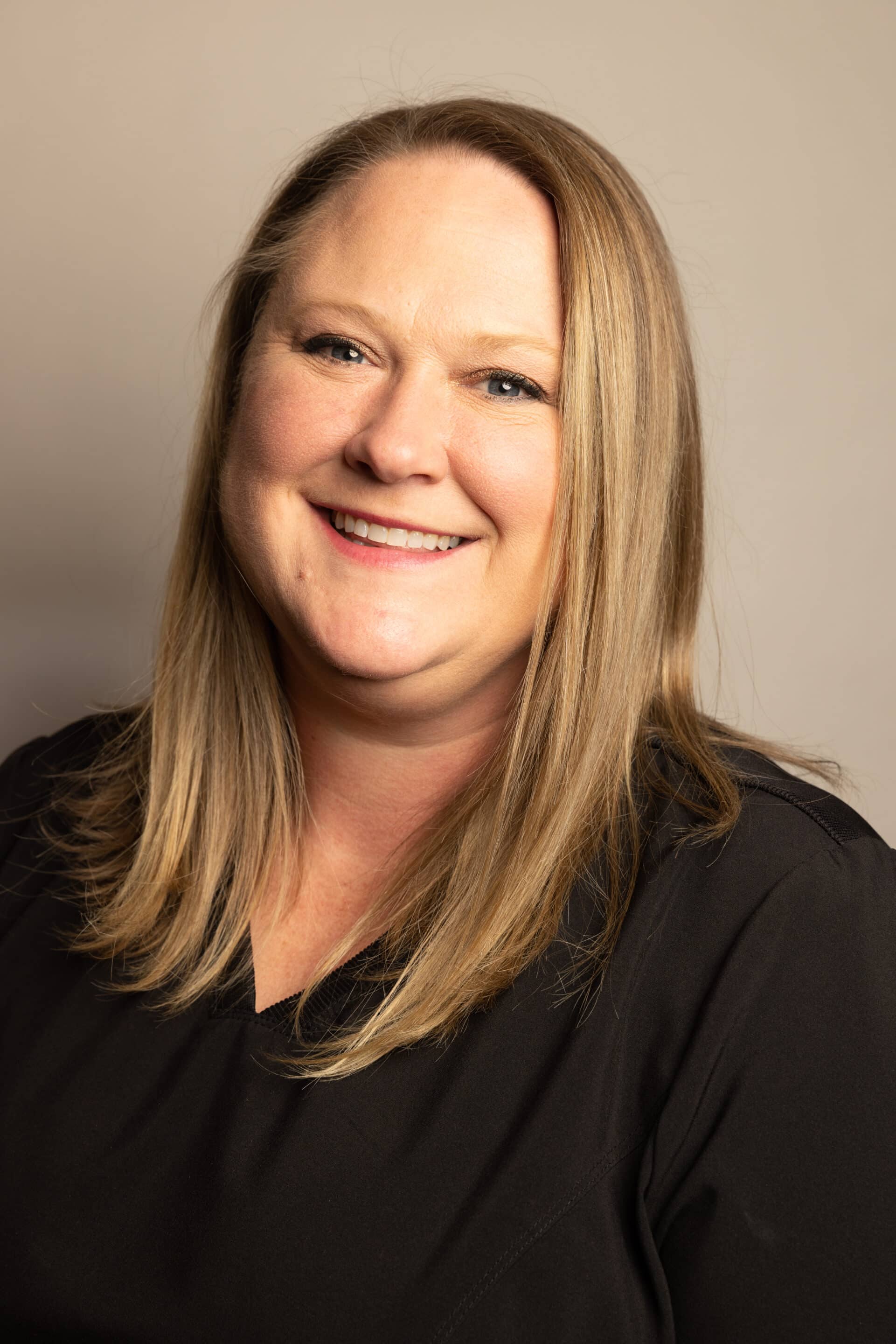 Kate, RDH
Kate has been a part of the team since the end of 2020; she attended GRCC. She enjoys playing board games and card games with her family. She also enjoys camping with her husband, three teenage boys, their black lab, Moses, and Olivier, their cat. She loves working at Grand Rapids Dental Partners because of the team environment. She says, "Everyone is completely dedicated to providing compassionate, gold-standard care to our patients."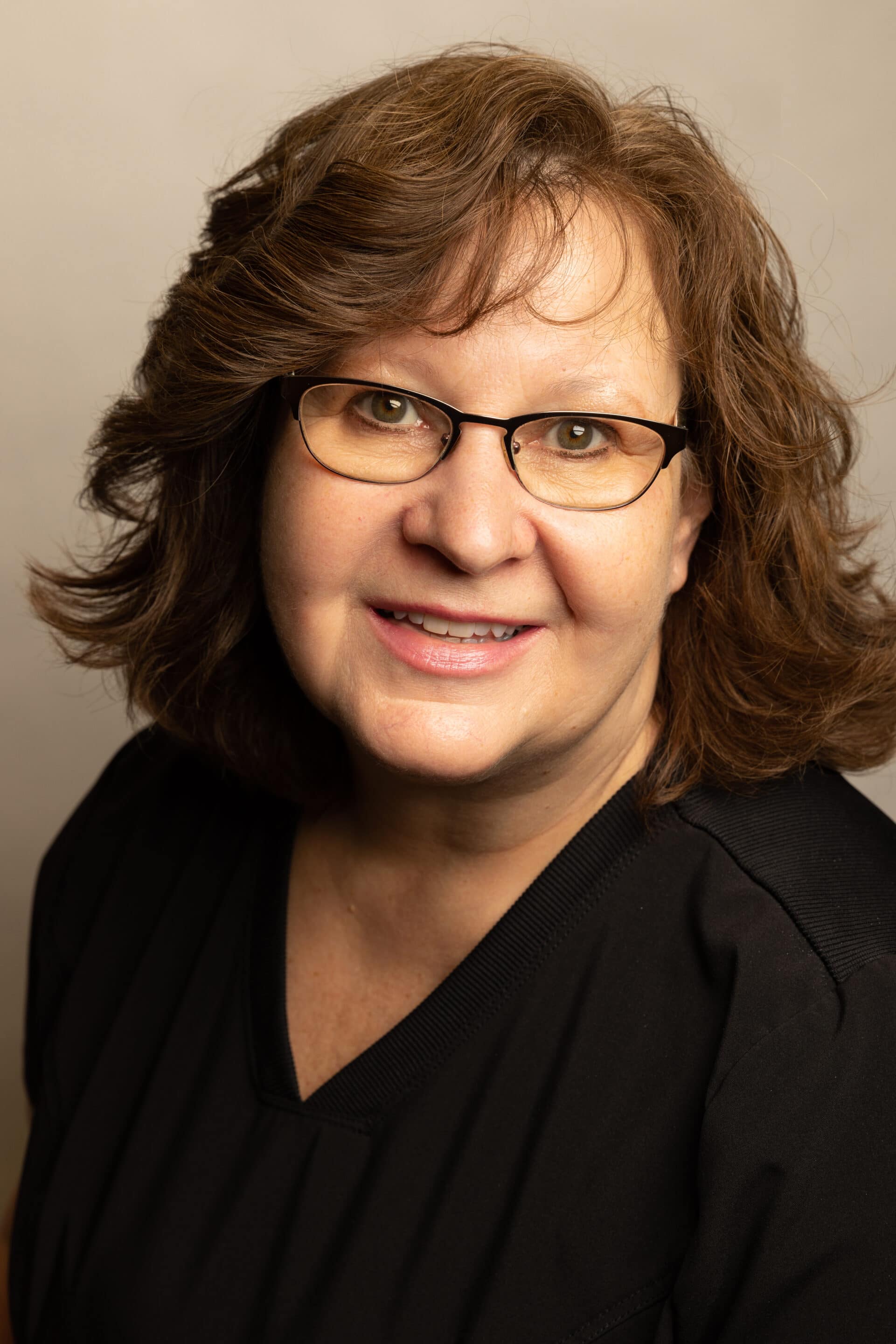 Jackie, Dental Assistant
Jackie joined the team in 1990 after studying at Northwestern Michigan College. She enjoys traveling by spending time Up North with her lovely family and taking in the outdoors walking at local parks. Her favorite part about working at GRDP is the patients and delivering them quality service.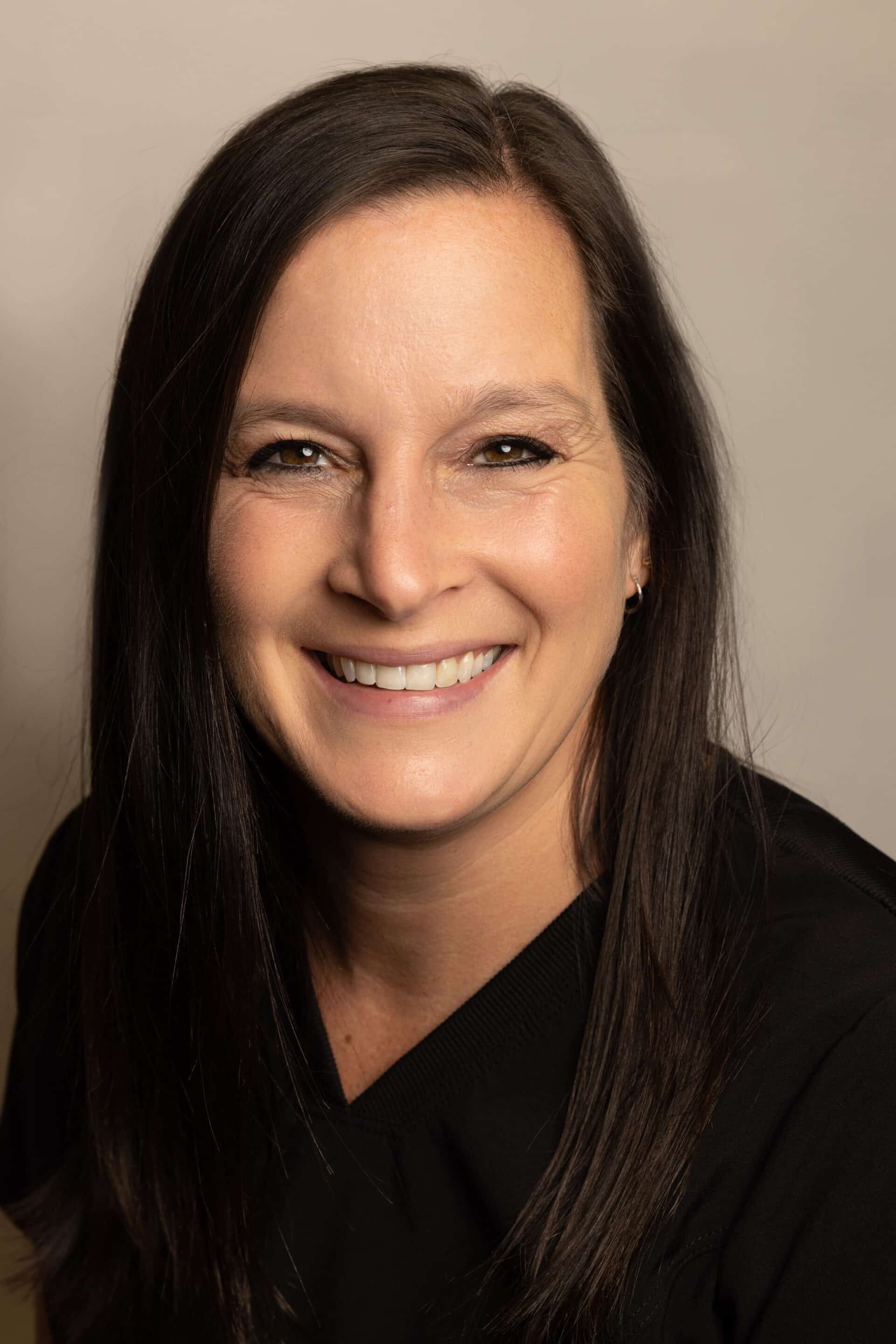 Amy, DA
Amy started in 2018. She graduated from GRCC in 1992. Outside of work, she finds herself camping, going on walks, gardening, and mainly spending time with friends and family. She and her husband have a daughter and a son. Amy loves how she works with people who feel like family and how the doctors truly care about the patients. 
Stacey, Practice Manager
Stacey started in May of 2021. Outside of work, she enjoys golfing with her husband and cruising the backroads and trails in their Jeep. Mainly, they like sporting events and rooting for Maize and Blue! She says, "Life is rarely boring at our house, together we have five children – all who have met their soul mates and are living on their own." They also have five wonderful grandchildren and Bru, an English Cream Golden Retriever. Although she's new to the team, she was previously a "very happy patient" for years. She loves how the team deeply cares about their patients and one another.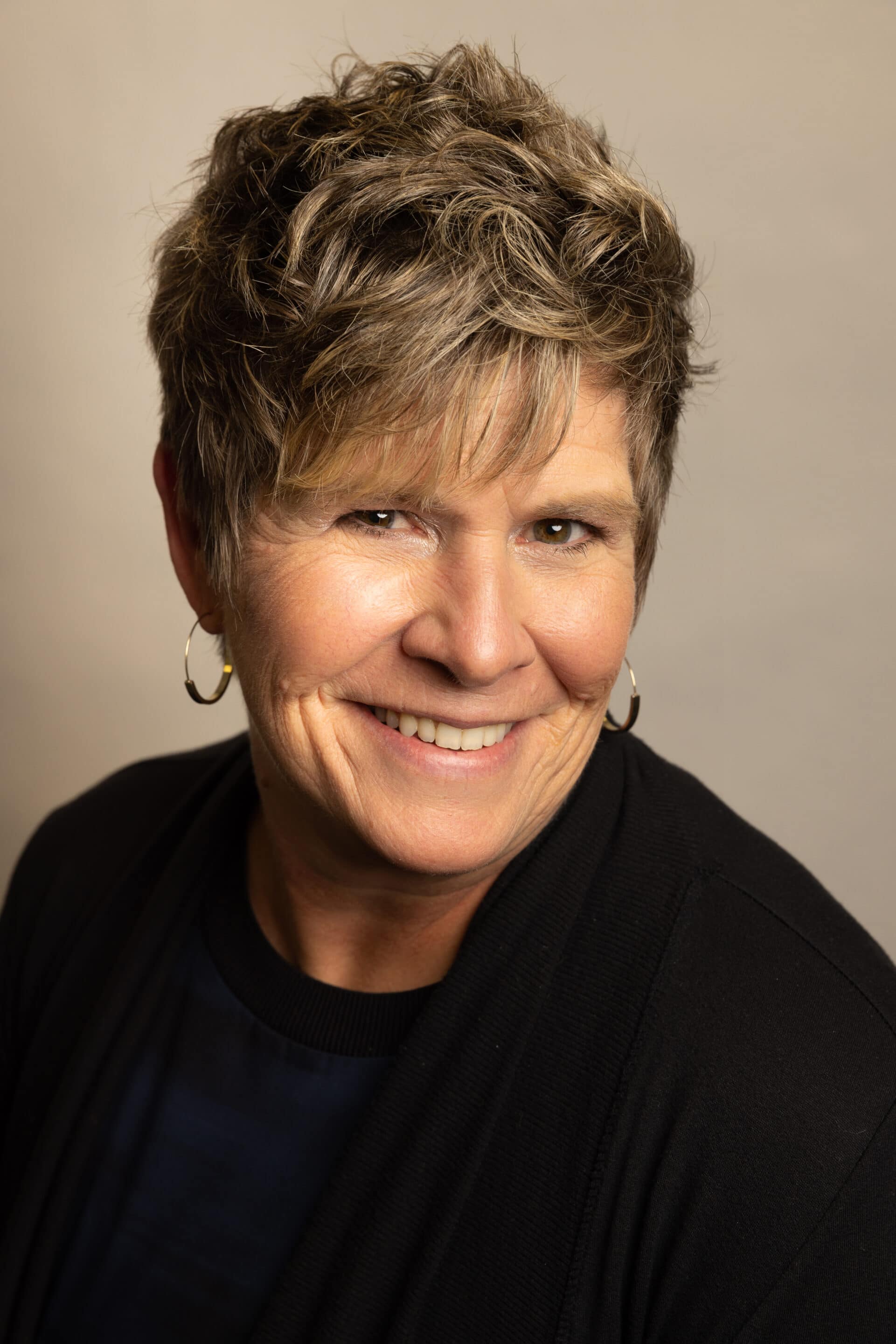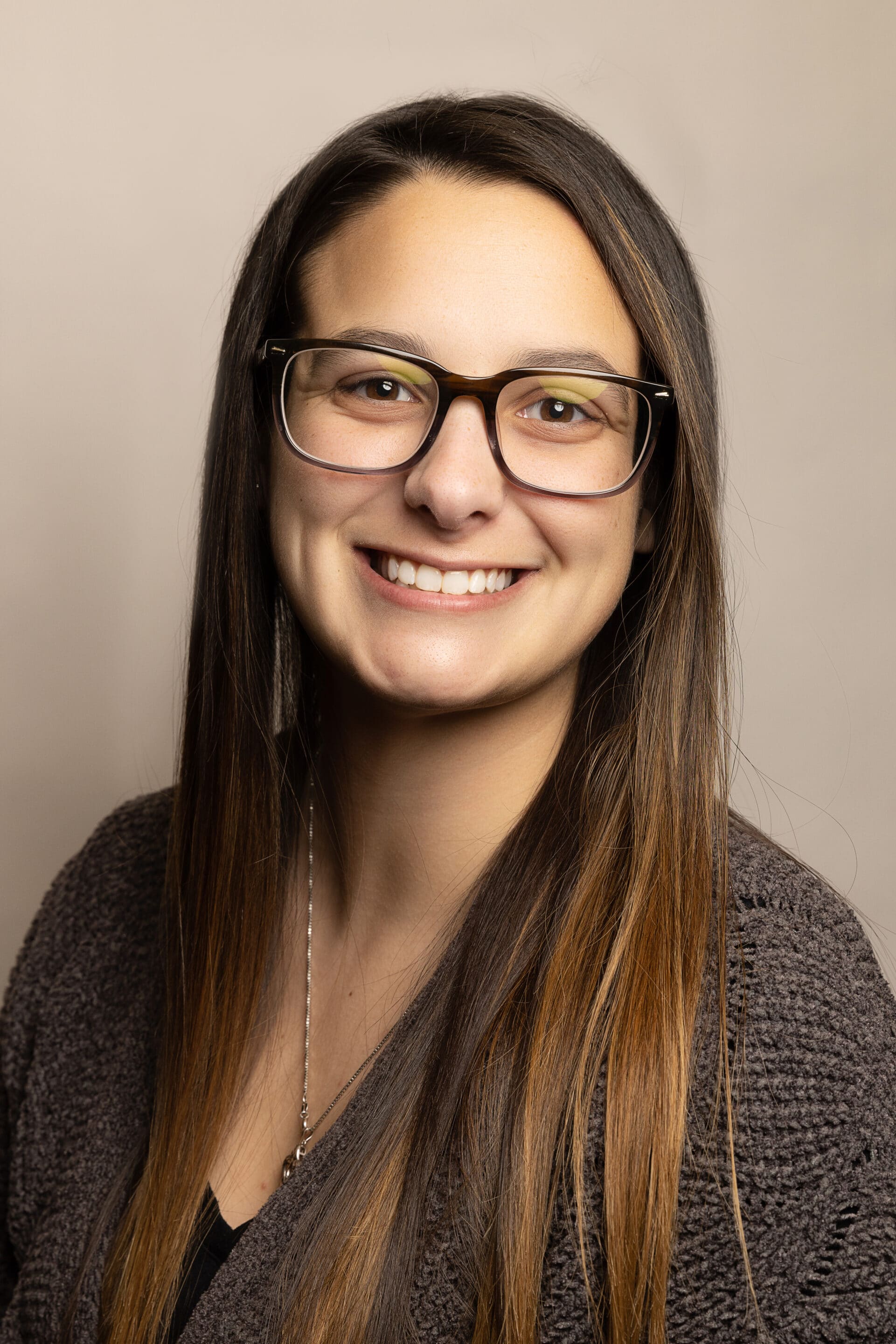 Abby,

Front Desk/Hygiene Coordinator
Abby joined the team in June 2021 and is currently attending LCC. In her free time, she loves off-roading in a Jeep and trying new food! Going on walks with her dog, Banio, is Abby's favorite pastime. One of the best parts about working at Grand Rapids Dental Partners, she says, is the ability to socialize with patients and co-workers. She also mentioned the "welcoming atmosphere" and the space for "teamwork and positive attitudes" as features that make her work life great.